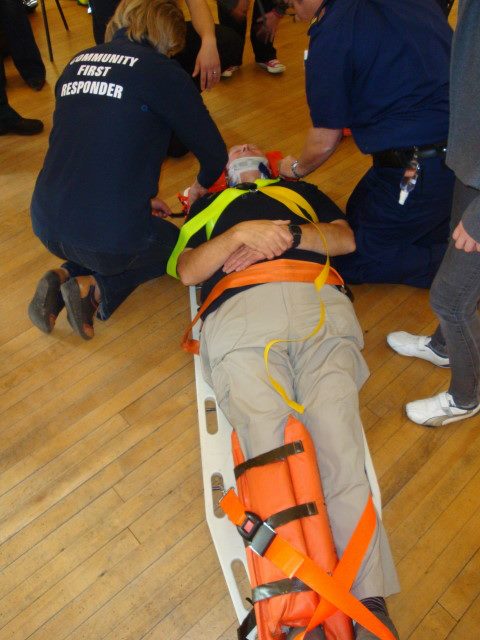 Additional Community First Responders (CFRs) will help the team provide greater coverage in terms of the number of calls that we can respond to and the time of day or night when they arise.
If you are interested in becoming a CFR please get in touch with us, here.
What are the criteria?
CFRs need to be over 18, fit and healthy, with a full UK or EU driving licence and either access to a car or in our case, a willingness to drive our scheme car with manual gearbox. Operationally, they must be prepared to attend emergency calls from either their home or place of work as soon as they receive a callout (in a similar way to which retained firefighters or RNLI staff operate). While a responder is on-duty they can continue with their normal activities but must remain within our operational region and be ready to drop everything and attend a call should one arise.

It is up to the individual CFR to decide when, and for how long, they are on duty. There are absolutely no expectations or obligations in terms of minimum hours per week and CFRs can log on and off with WMAS Emergency Operations Centre to suit their personal availability.

Prospective responders have an informal interview with the Ambulance Service and have to undergo a Disclosure and Barring Service check (formerly CRB). Once these steps are successfully completed, training can begin.
Previous medical or first aid experience is an advantage but is not essential as extensive initial and ongoing training is provided by the ambulance service. Initial training consists of three weekends followed by a written exam and practical skills assessment. The training includes First Person On Scene skills, and Level 3 Safeguarding.
Refresher training then takes place to keep CFRs up to date with different techniques – this includes Trauma Management, Airway Management and Ambulance Observation shifts.
There are also opportunities to further develop skills by attending specialist training courses, such as ECG Training, and Intermediate Life Support training.
Candidates are also required to attend Advanced Driving Course training.
CFRs need to live and/or work in the Stourdene region of South Warwickshire so please click here to learn where this is.
More details can be found on the West Midlands Ambulance Service website, here.